Interactive 3D presentation for real estate
Strong emotional closeness through interaction and sales-promoting functions make the XDnavigator an outstanding, unrivaled tool.
Real representation of space and depths
Sun position simulation (8 a.m. to 12 p.m.)
Apartment view (inside) with floor plan & details
Apartment status, image download, direct link
Property data management (on the customer side)
Branding & website integration
Your customers can experience the property in every detail. Building distances, depths, areas, etc. can be perceived independently in a short time.
This saves time in personal customer care and advice!
Through the strong experience and the "immersion" in the property, you create a lasting, solid bond between the property and your prospective buyer.
Higher lead rates also allow higher price levels to be placed!
Make an innovative and convincing impression on your customers with the XDnavigator and stand out clearly from your competitors!
Present yourself as a digital pioneer and innovator!
By simulating the position of the sun, your interested parties can easily see at what time the light falls in the rooms of the corresponding apartment and which rooms are in the shade.
The simulation is ordered according to the geographical location of your property and should only represent an approximate animation for your prospective customer.
We put your project in the right light!
3D inspection of the apartments
Not only from the outside your building can be completely inspected, your interested parties can also view the individual apartments down to the last detail from the inside and thus fall in love with an apartment straight away. In order to appear as neutral as possible to the viewer, we deliberately avoid using color and specific stylistic devices.
There is no closer and more realistic way to show an apartment to your potential buyers!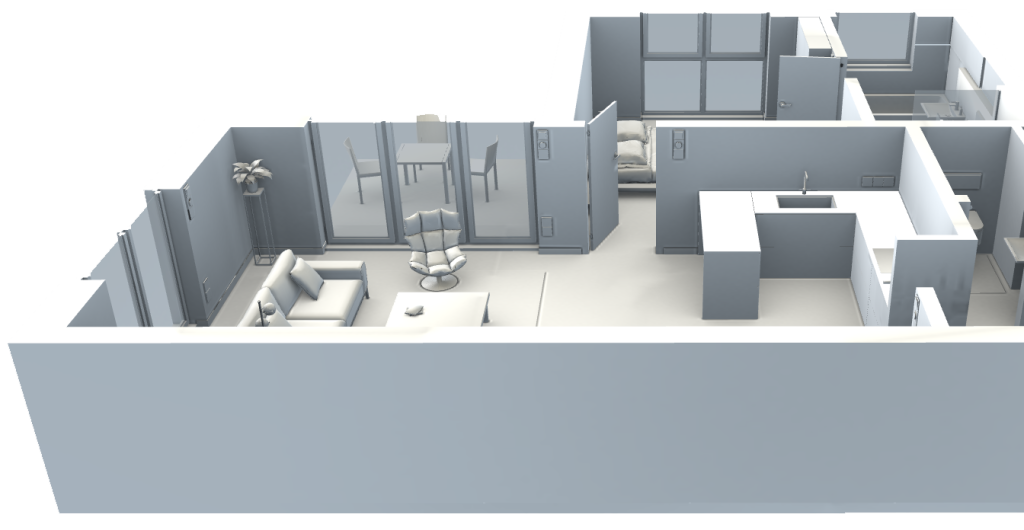 Full control of all apartment data
Via our online interface, you can edit all apartment data at any time and also set the status of individual apartments to be active or inactive with one click.
So you are flexible at all times and can react quickly!
Customer branding and website integration
According to your company or project design, the XDnavigator is perfectly adapted to you in terms of colors, shapes and fonts. In order to present the XDnavigator to your customers, you can integrate it into your website or open it directly via a link – for a maximum experience – in the new browser window.
Smartphone, tablet or desktop – the XDnavigator convinces on every device!